The Thrill of Generosity
The Thrill of Generosity: Know Your Father
2 Corinthians 9:8-11
The Thrill of Generosity
Know your Father
Proverbs 8:1-11, 17-21, Genesis 1:17
Sermon in one point: The MORE you know your Father; the GREATER will be your generosity and the THRILL.
What you Need to Know about our Generous Father:
Our Father is AVAILABLE (v1-4)
2 Peter 3:9, "The Lord isn't really being slow about his promise, as some people think. No, he is being patient for your sake. He does not want anyone to be destroyed, but wants everyone to repent."
1 Timothy 2:3-4, "This is good and pleases God our Savior, who wants everyone to be saved and to understand the truth."
Our Father is KNOWLEDGEABLE (v5-6)
Proverbs 3:5-6, "Trust in the Lord with all your heart; do not depend on your own understanding. Seek his will in all you do, and he will show you which path to take."
Our Father is VALUABLE (v 8-11)
Matthew 6:19-21, "Don't store up treasures here on earth, where moths eat them and rust destroys them, and where thieves break in and steal. Store your treasures in heaven, where moths and rust cannot destroy, and thieves do not break in and steal. Wherever your treasure is, there the desires of your heart will also be."
Our Father is RELIABLE (v21)
Matthew 6:25-26, 31-33 "That is why I tell you not to worry about everyday life—whether you have enough food and drink, or enough clothes to wear. Isn't life more than food, and your body more than clothing? Look at the birds. They don't plant or harvest or store food in barns, for your heavenly Father feeds them. And aren't you far more valuable to him than they are?...
"So don't worry about these things, saying, 'What will we eat? What will we drink? What will we wear?' These things dominate the thoughts of unbelievers, but your heavenly Father already knows all your needs. Seek the Kingdom of God above all else, and live righteously, and he will give you everything you need."
FINAL THOUGHT: Not only is God ABLE, God has made you CAPABLE.
2 Corinthians 9:8-11 (MSG), "God can pour on the blessings in astonishing ways so that you're ready for anything and everything, more than just ready to do what needs to be done. As one psalmist puts it, 'He throws caution to the winds, giving to the needy in reckless abandon. His right-living, right-giving ways never run out, never wear out'. This most generous God who gives seed to the farmer that becomes bread for your meals is more than extravagant with you. He gives you something you can then give away, which grows into full-formed lives, robust in God, wealthy in every way, so that you can be generous in every way, producing with us great praise to God."
Series Information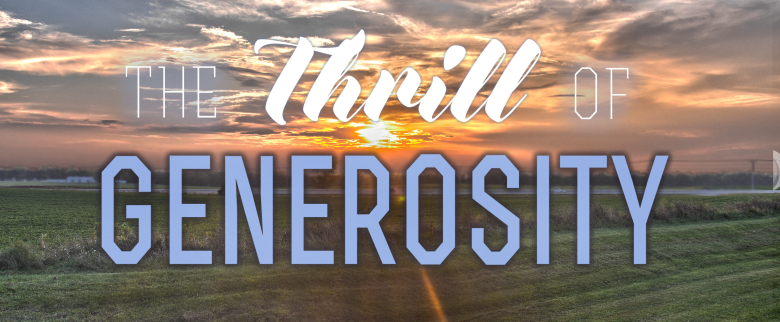 God is generous. We are created in His image and for His glory. We were born for generosity! A generous life reflects the character and love of God because He has set the example of generosity.