The Thrill of Generosity
The Thrill of Generosity: It's New Math
2 Corinthians 9:6-7
The Thrill of Generosity
It's New Math
Proverbs 11:23-5, 28
"…chasing happiness can make people unhappy."
- Emily Esfahni Smith
How shift from "never-enough-ism" to genuine generosity:
1. Get out of ORDINARY
See Proverbs 11:23-24

Ecclesiastes 5:10, "Those who love money will never have enough. How meaningless to think that wealth brings true happiness!"
2. Get the MATH Right
2 Corinthians 9:6, "Remember this—a farmer who plants only a few seeds will get a small crop. But the one who plants generously will get a generous crop."
Proverbs 11:24, "Give freely and become more wealthy; be stingy and lose everything."

Luke 6:38, "Give, and you will receive. Your gift will return to you in full—pressed down, shaken together to make room for more, running over, and poured into your lap. The amount you give will determine the amount you get back."

3. Get out of FUZZY
2 Corinthians 8:7, "Since you excel in so many ways—…I want you to excel also in this gracious act of giving."
Malachi 3:10, "Bring all the tithes into the storehouse …. If you do, I will open the windows of heaven for you. I will pour out a blessing so great you won't have enough room to take it in! Try it! Put me to the test!"


4. Get into JOY
2 Corinthians 9:8, "…For God loves a person who gives cheerfully." And God will generously provide all you need. Then you will always have everything you need and plenty left over to share with others."
"They love one another and he who has, gives to him who has not without boasting. And when they see a stranger they take him into their own homes and rejoice over him as a very brother, and if there is among them any that are poor and needy and if they have no spare food, they fast two or three days in order to supply to the needy their lack of food. Such, O King, is their manner of life and verily this is a new people and there is something divine in the midst of them."
Aristides report to Caesar Hadrian (117 to 138 AD) concerning "The Way"
FINAL THOUGHT:

What would happen in this go-getter world, if the church really became a go-giving people?
Series Information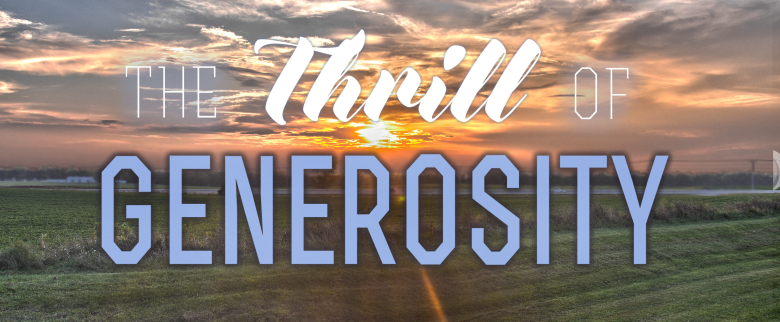 God is generous. We are created in His image and for His glory. We were born for generosity! A generous life reflects the character and love of God because He has set the example of generosity.