Less is More
Less is More: Margin in the Pace of Life
Less is More
Living within the Margins
1 Kings 19:1-10
Margin Defined: space.
Margin is the gap between rest and exhaustion.
Margin is the reserve between what I spend and what I earn.
Margin is the peace found between my commitments and my limits.
Theme for the series: Margin Decreases = Stress Increases.
Living with Margin… Learn Your Limits
Physical Exhaustion
Emotionally Spent
Relationally Isolated
Spiritually Drifting
Why do we Live without Margin? Fear
Love the Limits
Matthew 11:28, "Come to me, all of you who are weary and carry heavy burdens, and I will give you rest."


Revelation 3:20, "Look! I stand at the door and knock. If you hear my voice and open the door, I will come in, and we will share a meal together as friends."
Final thought: It is a leap of faith, to step into margin of Less; trusting God to be your More.
Series Information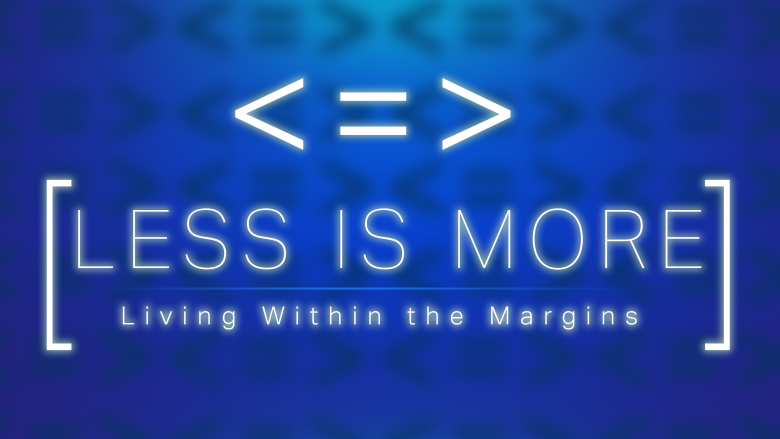 The New Year is a great time to reflect deeply upon what is necessary. Too much of our lives are spend on "autopilot" and we run, run, run—until we find we have run ourselves, our finances, our families and even our faith ragged. There is another way-- one where we have room to breathe, time for our families, and space for what God has planned. Simplicity in life allows us to establish margin in our living.