By Drift or Design
By Drift or Design- First Things First
James 4:13-17
By Drift or Design
First Things First
James 4:13-17
Drift—a gradual shift in position; an aimless course; to become carried along subject to no guidance or control.
"For this reason, we must pay attention all the more to what we have heard, so that we will not drift away." Hebrews2:1(CSB)
What does it take to break the drift?
(1) Escape Passive Disengagement
Proverbs 24:33-34, "A little sleep, a little slumber, a little folding of the hands to rest, then poverty will pounce on you like a bandit; scarcity will attack you like an armed robber."
(See Genesis 3:6)
Proverbs 6:9, "But you, lazybones, how long will you sleep? When will you wake up?"
2) Embrace the Gift of Disillusionment
See, v13-14
Psalm 90:12, "Teach us to realize the brevity of life, so that we may grow in wisdom."
3) Embark in Thought-filled Discipline
See v15
Matthew 6:33, "Seek the Kingdom of God above all else, and live righteously, and he will give you everything you need."
Three key questions:
What do you want?
Where are you?
Are you ready to make a move?
Final Thought: Today is a gift of beginning. Ask God, who did He make you to be? How far have you drifted? Are you ready to start?
Series Information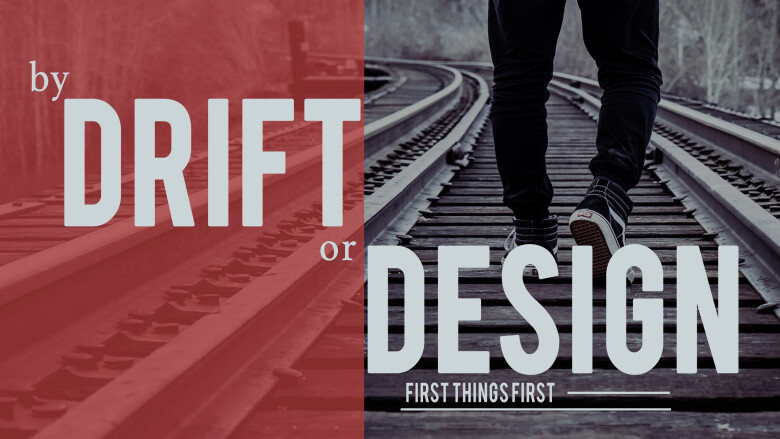 The natural tendency in every area of life is to live by drift. We just wander. Have you ever considered the powerful testimony of Deuteronomy 1:2 that tells us that trip from Mount Sinai to the promise land only took on average 11 days? How do you end up wandering for 40 years? You drift.
The wiser plan is to plan and prepare in advance. Live by design. Not by drift.